Media Resources
Tobacco News: Executive Farm Management program article
Matt Vann, an Extension specialist with North Carolina State University, says the EFM program reaches out to farmers here in North Carolina, "and it does something that I felt like we have really missed in Cooperative Extension for a number of years now. We focused really hard on the fundamentals of growing a crop, growing tobacco, peanuts, etc., but what [the EFM] program does is really take that to the next level with a lot of the business side of running a farm."
---
"The Best Decision I've Made in Long Time"
Through the Executive Farm Management Program, farmers and managers with large family farms in the Southeast gain skills and connections needed to sustain operations in the face of financial challenges.
This article includes testimonials from 2019 alumni Beth Taylor and Kim Kornegay LeQuire.
---
Innovation Management: Cultivating the Modern Farmer, in the Center for Innovation Management Studies (CIMS) January 2019
CIMS is delivering executive education curricula as an integral component of the Executive Farm Management Program. The Center is facilitating innovation for Southeast growers who can use these skills to feed a hungry world.

---
The Executive Farm Management (EFM) Program will be offered again, in 2019, with a few differences in this coming year's offerings;
Now available to ALL Growers/Packers/Processors in the Southeastern Region of the US
Curriculum will include all of the above topics as well as further customized for Tobacco and All Produce Growers/Packers/Processors
Educational Team has expanded to include Clemson Cooperative Extension & University of Georgia Extension
Delivered in a more concentrated period of time (January 2019 – February 2019), with shorter in-session consecutive days of learning
---
Executive Farm Management Program Expanding in 2019
October 4, 2018
The Executive Farm Management Program has gone regional, with some of the Southeast's leading management experts joining the NC State and East Carolina University team that launched the program last year. Mike Davis reports.
---
North Carolina Executive Farm Management Program Expanding
September 11, 2018
Grainger explained that agriculture in the Southeast is both unique and diverse, with many crops requiring a great deal of labor. Instructors tailor the program to factor in this diversity. This year, the program has not only expanded its crop focus, it has also added academic partners and is actively recruiting participants across the Southeast.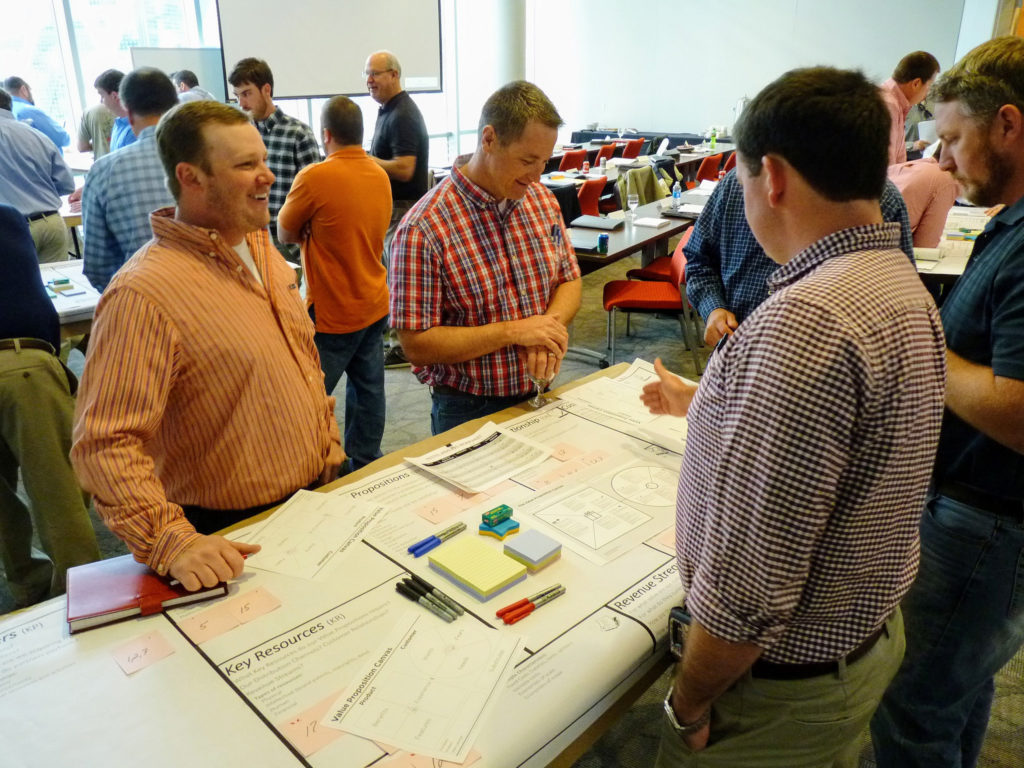 ---
Brown Appointed to WH Council of Economic Advisors
August 17, 2018
Dr. A. Blake Brown, Executive Director of EFM, joined the Council of Economic Advisors at the White House on August 1st. Replacing, Michael Adjemian, Brown will serve as a senior economist focusing on agricultural policy. The Council is a part of the Executive Office of the President.
Michelle Grainger is serving as Managing Director in his absence.
---
New Program Addresses the Business of Farming
January 25, 2018
The science, technology and business of farming in the 21st century are changing rapidly, and to compete on a global scale, farmers need to know not just how to grow a good crop but how to effectively lead complex, management-intensive operations.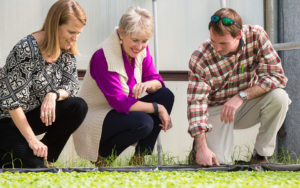 ECU College of Business Instructor Sharon Justice (center) and Eastern North Carolina farmer Steven Archie Griffin (right) look at the tobacco seedlings grown on Pattie Mills' (left) farm.
---
EFM Director Blake Brown published an analysis of the use of the business model canvas in agribusiness management programs. Read "Application of the Business Model Canvas in Farm Management Education."Application of the Business Model Canvas in Farm Management Education."  He presented this research at the International Farm Management Association Congress and Tour in Edinburgh, Scotland in June 2017.
---
ECU Collaboration Supports Sustainability for N.C. Farms
March 29, 2017
Instructors from ECU's College of Business joined event organizer NC State University in developing and delivering content to help large family-owned farmers strengthen their business management skills, meet the demands of the global market and gain a competitive advantage.